Disability Easy Access Shower Ewell
Client Brief:
To create space to a small existing bathroom to provide an easy access walk in shower cubicle with grab handles for an elderly gentleman with some mobility issues.
Dabney Solution:
After an initial meeting with the clients it was decided that a full bathroom removal would be necessary to maximise the existing space and to suit the clients requirements. A full site survey was undertaken and a written quotation provided.
To achieve the clients request a full demolition and removal of the existing appliances was undertaken along with the existing wall and floors tiles. A small 2-yard was required to contain and clear any rubbish. Bathroom supplies isolated was removal could commence. The existing bath was made from solid cast iron, the bath was broken into 4 evenly sized pieces on site using a heavy lump hammer, so a safe removal could be achieved. Remainder of room cleared including wall and floor tiles. To achieve the desired easy access walk in shower cubicle and to provide the correct waste water gravity falls from the new anti-slip shower tray a solid timber plinth was custom built in 100mm x 50mm treated timber, screwed together and firmly fixed to the solid concrete floor.
New timber base lined in 18mm WBP plywood ready to accept the new anti-slip shower tray. Existing hot and cold supplies cut back. New hot and cold plumbing supplies along with new waste pipes ran to their new positions to feed a new thermostatic exposed shower mixer with a separate handset, a new anti-slip 1400mm x 800mm solid concrete resin shower tray and a new wash hand basin with vanity unit. All new pipe work heat and pressure tested and were required all new pipe work chased into walls out of sight. Walls prepared were necessary and all pipe work chases filled with a base bonding plaster. Remainder of walls to bathroom were prepared in a PVA solution and a bonding coat of plaster applied to provide a sound flat surface ready to be tiled. New anti-slip concrete resin shower tray fitted and bedded on a weak sand and cement mix to provide a perfect level to all sides.
Tiling undertaken to shower wet area, plus in and around window. Tiling edges finished in a square metal brushed chrome tile trim, all angles mitred to a 45 degree angle. Grouting to all tiling on completion. Thermostatic exposed shower and separate handset fitted to new finished tile surface and fully tested for correct operation. New wash hand basin and vanity unit fitted and tested.
End result:
To fit an approved NHS folding waterproof disability seat to the wall using solid wall mounted fixings. To fit a 8mm thick fixed glass panel dimensions 900mm wide x 1850mm high. Finally, to attach numerous metal chromium plated anti-slip handles to various areas to suit the clients requirements and needs. Floor prepared and a laytex self levelling compound poured and applied to provide a sound, clean and level surface ready to accept a vinyl floor covering to be fitted a later date.
Carpentry and Bathroom Fitting – Ewell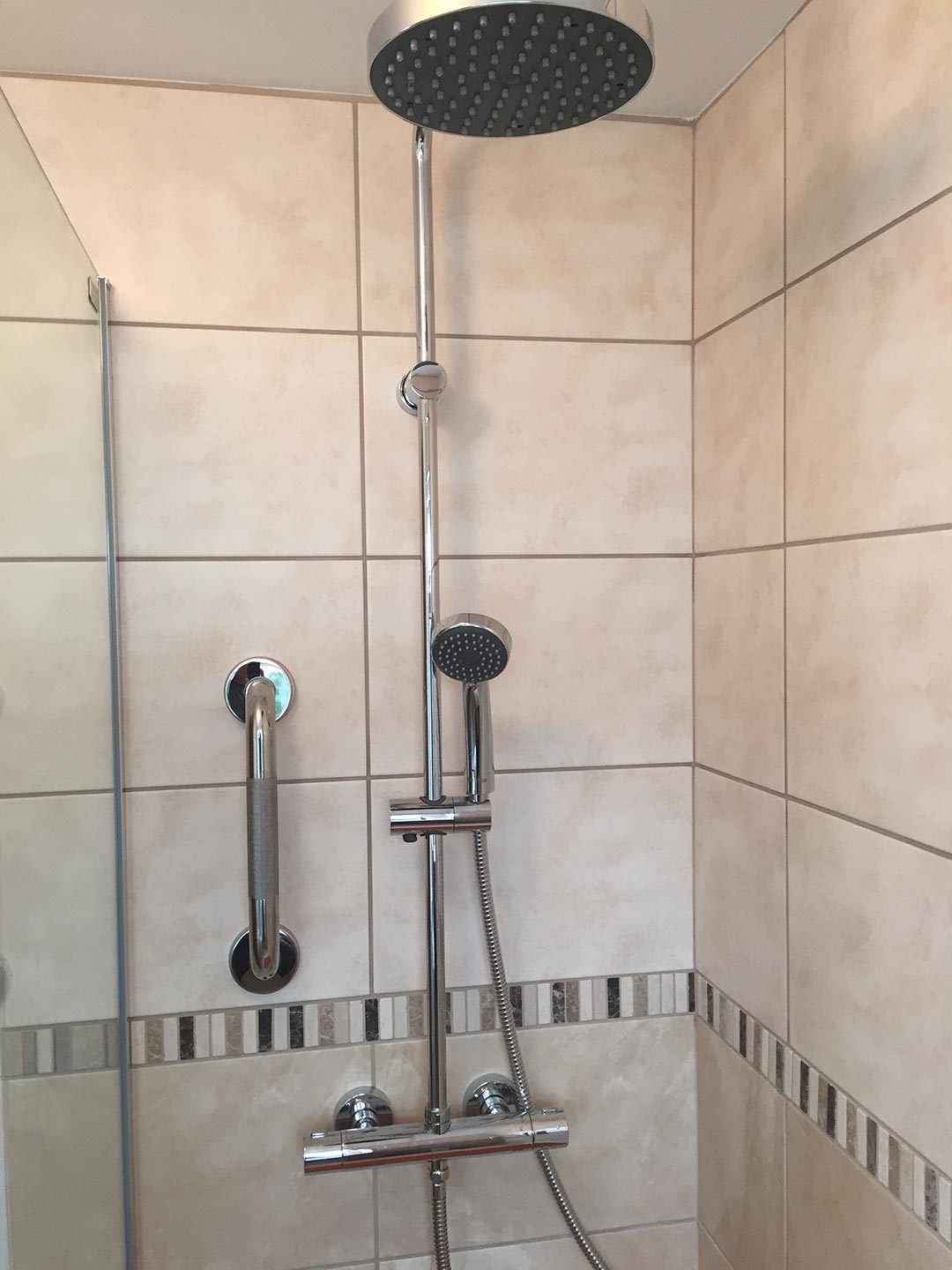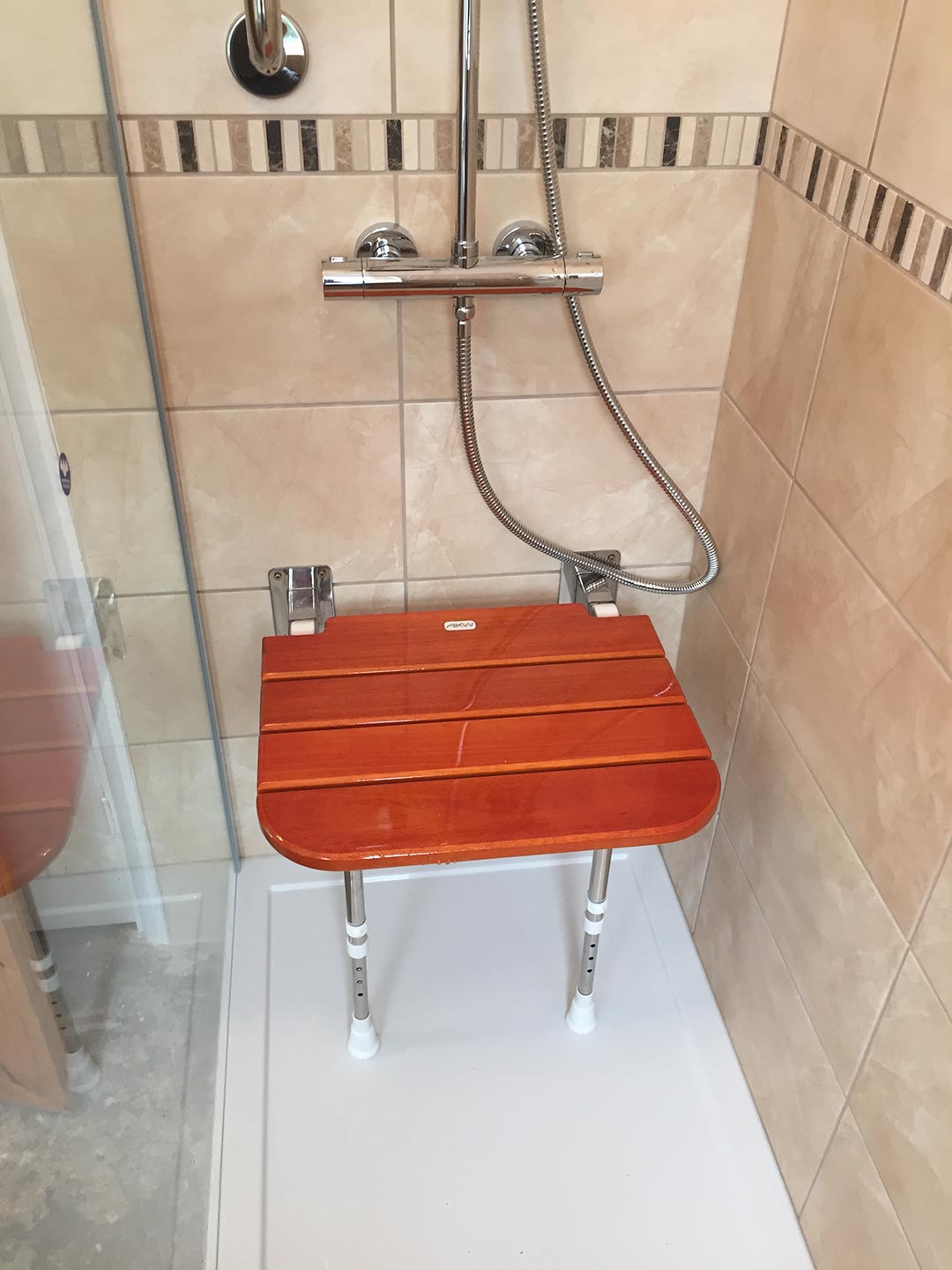 Old bathroom stripped out and a disability walk in shower room fully fitted out including plastering, plumbing, tiling and decorating. Work commenced when agreed and dedicated full time to our work. All work carried out to very high standard. Excellent work. I would be happy to recommend Dabney Plumbing Services to anyone.