Spacious Walk In Shower – Dorking
Client Location – Dorking
Client Brief:
To remove existing non-functional shower/steam cabinet to create space for a spacious walk in shower with head room and a large shower tray.
Dabney Solution:
Firstly, to dismantle the existing shower/steam cabinet. Electrics along with the hot and cold water supplies were isolated to facilitate the safe removal. The shower/steam cabinet was made up of individual sections that could be dismantled and be removed from the property. A 4-yard skip was required and placed on the clients driveway.
The condition of the existing tiled walls behind the shower/steam cabinet were assessed. After a consultation with the client it was decided that 6 metres squared of badly finished porcelain tiling required careful removal. To achieve correct preparation and to ensure that precise tile lines will be level on commencement of tiling, numerous existing grout lines were carefully prepared by hand with a 4" angle grinder using a fine diamond encrusted blade.
Unwanted electrics along with redundant hot and cold pipe-work removed. New hot and cold rigid copper pipe work installed to suit a new exposed Aqualisa Midas 100 thermostatic Rain shower head with separate handset.
New copper pipe work protected from corrosion using a high grade Denso tape to avoid a chemical reaction eating into the bare copper pipe work and causing any possible leaks. Chases made into solid concrete block wall to accommodate the new pipe work. After pressure and heat testing the new concealed pipe work, the chases were filled with a strong bonding plaster.
A solid custom built timber raised base was required to provide the waste water falls and to not damage the existing electrical UFH mat. This frame was glued to the floor using a high grade gel resin. Alterations made to the waste pipe and 18mm plywood cut to fit and carry the new 1400mm x 900mm low profile shower tray.
The new low profile shower tray was levelled to all angles to facilitate fitting of a glass fixed panel and the new low level shower tray firmly fixed to the plywood base using a high tack rapid tile adhesive and a generous amount of PVA glue.. Waste pipe and new vortex shower trap tested for correct operation and leaks.
A timber fascia was cut and fitted to suit the correct depth required before tiling. Walls finally prepared and sealed with PVA. Tiling commenced and completed to walls + grouting. The raised shower base was also carefully tiled + grouted with a tiled fascia and tiled water proof shelve to match the existing tile pattern. Entire area and entire shower room deep cleaned.
End result:
To second fix the new Aqualisa Midas 100 exposed thermostatic shower valve along with the exposed riser rail + the rain shower head and the separate handset. Shower valve and its components fully tested for correct operation. A 8mm 1900mm high x 900mm wide fixed glass shower panel required drilling, screwing and fixing to the porcelain tiles using a diamond tipped mini core bit. A chromium plated support arm and its components were also fitted and screwed to the porcelain tiles to provide strength and additional support to the glass fixed shower panel.
On completion the entire shower wet area was finished in a high grade silicone sealant (Dow Corning) 785 mould resistant to provide a fully water tight and mould free environment.
Bathroom Fitting – Dorking
Before, the existing shower/steam cabinet and after, replaced with a sympathetic, aesthetically pleasing and very functional spacious walk in shower.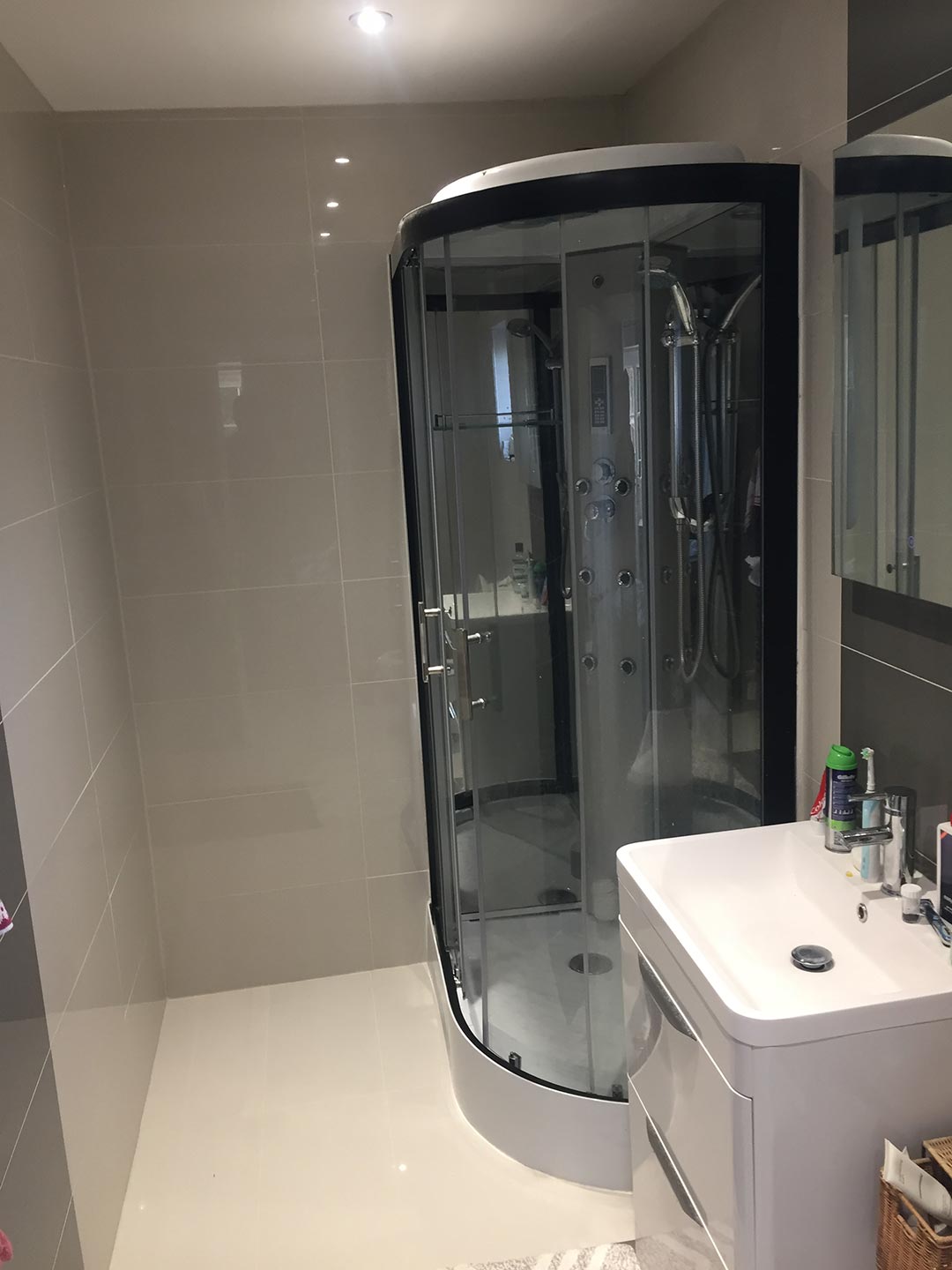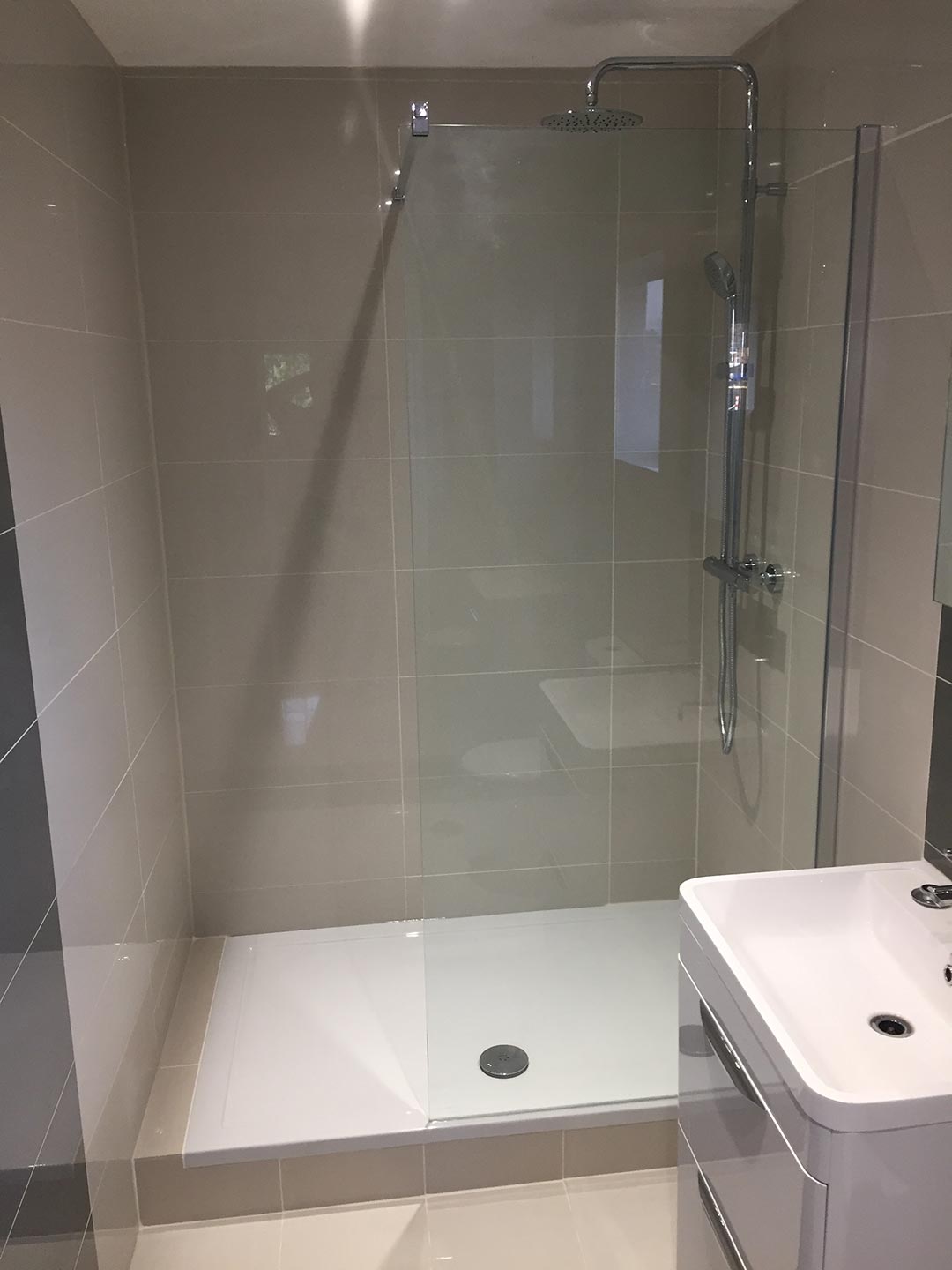 A brilliant job done! Very professional and courteous. Always offered intelligent solutions and carried out a very professional installation, all work completed by Clive and his colleague. The shower was replaced with a sympathetic, aesthetically pleasing and very functional spacious walk in shower. All options were discussed. They were on time and had a great deal of experience. Attention to detail and tidy throughout the job.
Highly recommended by a very satisfied customer.